Parafed BOP started developing a Youth Programme in 2018. The programme is aimed at creating opportunities for youth to meet up and enjoy a variety of sport, recreation and play activities. Many of our activities are available to enjoy with their families.
There are two youth annual highlights. One is the annual Halberg Games hosted by the Halberg Foundation. This is a fun three-day event where youth can compete in the sports they love as well as trying new activities with the chance to meet others from around the country. The other is our Healthvision Festival of Disability Sport. This is a two-day event which show cases disability sports with the opportunity to try a variety of activies as well as a play area for all the family to enjoy.
Last year our youth members had the opportunity to try a variety of activities including, adaptive surfing, pistol shooting, ten pin bowling, rock climbing, jiu jitsu, taekwondo, blo-karts, virtual reality, swimming and more as well as our regular Monday night sports of boccia, wheelchair basketball and wheelchair rugby. Please check the calendar for updates.
Other opportunities available are inclusive sport activities in schools including athletics for AWDs (Athletes With Disabilities) at school competitions, clubs or community events.e.g AWDs are included in AIMs Games for yr 7 and 8's
We have a closed Parafed Bay of Plenty Community Group on Facebook where families can reach out, share stories and often join up to play online bingo!
If you or anyone you know are interested in this programme please get in touch with Jo Jackson.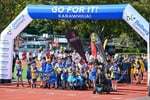 The Halberg Games is a three-day national multi sports festival open to youth from 8 years to 21 year with a physical or visual impairment. It is a fantastic opportunity to be part of the Parafed Bay of Plenty Team that represents our region.
2024 dates - April 19th to 21st
Kings College, Auckland
For more information or If you want to be a part of the Parafed Bay of Plenty Team please contact Jo Jackson
Healthvision Festival of Disability Sport
The Healthvision Festival of Disability Sport brings people together to celebrate and showcase disability sports over one jam packed weekend in Tauranga. Bring your family and join the fun!
2023 dates - 29th and 30th April
2024 Dates - TBC
Trustpower Arena, 81 Truman Lane, Mt Maunganui
For more information please contact Suzanne Morrison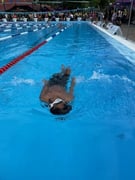 The Zespri AIMS Games provide competition opportunities for students with physical, visual, intellectual, and other disabilities with a focus on achieving personal bests and encouraging activity. Swimming and Cross Country (adapted to athletics 800m) have been available to AWDs (Athletes With Disabilities). This year, Zespri AIMS Games will offer separate AWDs divisions in both Table Tennis and Indoor Bowls. In all other sports, athletes with disabilities can compete in an open class.
2023 Dates - 2nd to 8th September
Various Tauranga venues
For more information please contact Jo Jackson